Special Features
Bike Safety Fair
Wake Forest is helping to raise awareness about the importance of bike safety by sponsoring a free Bike Safety Fair on Saturday, May 2, from 10 am-2 pm.
This year the safety fair is again being offered as part of Meet in the Street. Facilitated by the NC State Highway Patrol, the Bicycle Safety Fair is designed to teach safe bicycle riding skills to children ages five to 14 and their parents. During the event, participants will be taught safe riding techniques through an obstacle course that re-creates real-life situations. For more information, call 919-435-9512.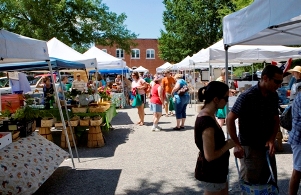 Wake Forest Farmers Market
Although the Wake Forest Farmers Market isn't an official Meet in the Street participant, its tremendous popularity and proximity to downtown make it a favorite local attraction. Located in the parking lot of Renaissance Place, 405 S. Brooks St., the Farmers' Market has grown into a lively community event on Saturday mornings offering fresh-off-the-farm produce; pasture-raised beef, poultry, and pork; free-range eggs; fresh and dried herbs; honey, jams, and preserves; fresh-cut flowers; and delicious baked goods. The majority of our farm products are raised using environmentally sustainable agricultural practices, which are healthy for the soil, water, air, animals, and you! The Farmers Market will be open from 8 am to noon. For more information, visit the Farmers Market website or call 919-671-9269.