Meet in the Street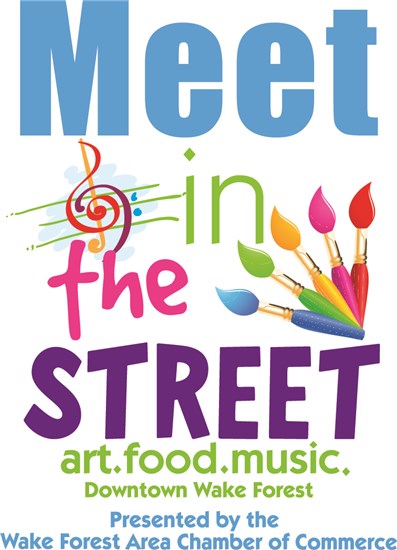 39th Annual Meet in the Street
Saturday, May 4, 2019 ~ 10 am - 4 pm
South White Street, Historic Downtown Wake Forest
The 39th Annual Meet in the Street® festival will take place Saturday, May 4, at 10 am along South White Street in historic downtown Wake Forest. Presented by the Wake Forest Area Chamber of Commerce, Meet in the Street offers a day filled with food, fun and entertainment, including live music and children's activities. Admission is free.
Festivities will include hundreds of booths featuring handcrafted arts and crafts, along with multiple entertainment venues.

Meet in the Street Applications Now Accepted

Meet in the Street Sponsorship Opportunities
For more information, contact Corey Hutcherson at 984-538-5251.
Meet in the Street App
Complete information about Meet in the Street will be provided through the "Meet...Street" function on the Town of Wake Forest app. Download the app for instant access to information about Meet in the Street vendors, concessions, entertainment, and more! IPhone, iPod Touch, iPad, and Android users can download the app by searching for "Town of Wake Forest" on iTunes, in the iPhone app store, or in Google Play or by scanning the appropriate QR code.