Arbor Day
This year Wake Forest is celebrating Arbor Day on Saturday, Oct. 12, 2019, at E. Carroll Joyner Park, 701 Harris Road with an Arbor Day Expo and Tree Seedling Giveaway.

Tree Seedling Giveaway & Arbor Day Expo
The Arbor Day Expo and Tree Seedling Giveaway will get underway at 11 a.m., while the Arbor Day ceremony is scheduled to begin at noon.
As part of this year's Arbor Day celebration, the Urban Forestry Board (UFB), town staff, and volunteers will distribute 900 tree seedlings, including Southern crabapple, black walnut, sycamore, overcup oak, black gum, dogwood, and redbud (limit one per household) to area residents free of charge while they last.
During the expo, local organizations will offer special activities, treats, and information related to trees, gardening, and related topics. In addition, expo attendees can learn about and sign up for the Wake Forest Tree Stewards Volunteer Program. Children will have the opportunity to participate in various art activities, including building their own bird house, and making a "tree cookie" necklace.
Finally, as part of the annual Arbor Day ceremony, town officials will accept Wake Forest's 39th consecutive Tree City USA award and 4th consecutive Tree Line USA award.

2018 Arbor Day Sponsors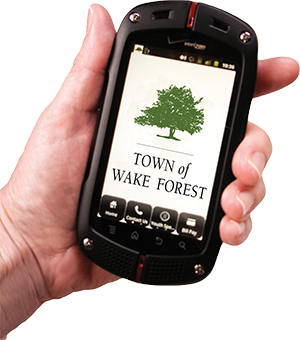 E-Notifier
To receive email notifications concerning special events in Wake Forest, sign up for E-Notifier.

Weather Updates
In case of rain, all of this year's Arbor Day festivities will be held at the Flaherty Park Community Center, 1226 N. White Street. Smart phone users who have downloaded the Town of Wake Forest app will receive a push notification message informing them of any schedule changes. Updates will also be provided on Wake Forest TV 10, on the town's Facebook page and by calling the Wake Forest Weather Line at 919-435-9569.

Tree City USA
Wake Forest has been a Tree City USA since 1979, and was named North Carolina Tree City USA of the Year in 2010.

Observing Arbor Day
Arbor Day is part of an annual nationwide campaign to promote the planting of trees. The event began in Nebraska in 1872 when newspaper journalist J. Sterling Morton proposed a tree-planting holiday to the State Board of Agriculture.
Although National Arbor Day is celebrated on the last Friday in April, individual state commemorations are scheduled on dates better suited to their own tree-planting seasons. North Carolina officially celebrates Arbor Day on the first Friday following March 15.

Urban Forestry Board
The Urban Forestry Board is a citizen group appointed by the Wake Forest Board of Commissioners. The UFB, formerly known as the Tree Board, was established in 1978 as an advisory committee to the board of commissioners. The nine-member committee oversees all planting in rights-of-way and on public property. It also advises the town on proper tree maintenance in public areas and is committed to the growth and preservation of the urban forest.